Sharp – refrigerator-freezer – sj-xg690mwh white
In stock
Compare
Description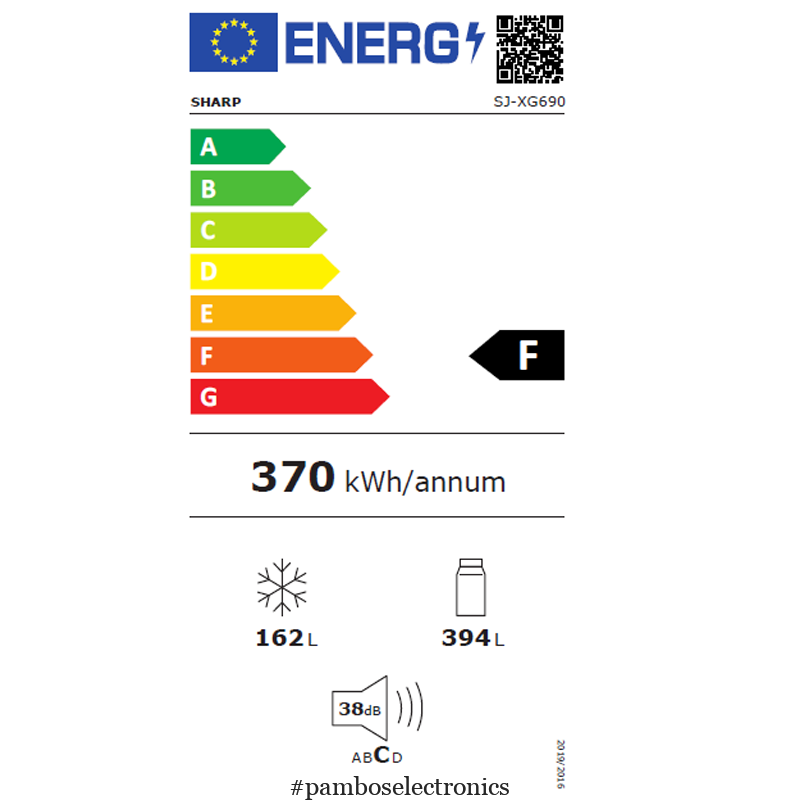 Technologies
J-TECH INVERTER: By means of 36 stepped control steps, optimal operation of the compressor is achieved depending on the situation, thus ensuring maximum power saving. Compressor life is extended thanks to its wide voltage control. Silent and Powerful compressor with fast cooling capability.
Plasmacluster Ionizer and Ag+ Silver Ion Filters: The ionizer works during rapid cooling by removing bacteria from inside the refrigerator and keeping the air fresh and clean thus increasing the shelf life of your food.
Hybrid Cooling System: With the hybrid cooling system, the optimal temperature in the storage area is ensured, keeping food fresh for a longer period of time.
Specifications
Cooling system: Full No Frost
Climate class: T
Noise level: 38(dBA)
Capacity
Total capacity: 556 liters
Net maintenance capacity: 394 liters
Net freezer capacity: 162 liters
Under maintenance
Number of shelves in Maintenance: 3 removable and height-adjustable glass
shelves Number of Maintenance door shelves: 3
Drawer for fruit and vegetables: 2 with glass cover and humidity control
Special shelf for the best preservation of meat and fish with a temperature of 0 oC (Chiller)
Internal LED Lighting
In the Freezer
Autonomy in case of power failure: 19 hours
Freezer 4**** stars
Freezing capacity 7.3kg/24 hours
Mechanism for
General characteristics
Antibacterial protection
Dimensions (HxWxD): 187x82x74cm
Weight: 87Kg
Color: Silver
The Sharp SJ-XG690MWH Double Door Refrigerator 556 L, 187 x 82 cm is the product you didn't think you needed, but once you have it, something you won't want to live without.
FAQ:
***If you choose the option of Delivery and Installation; it includes: FITTING on the Existing Provisions!
The product can be delivered to the inside ground floor for houses or inside ground floor lobby for apartment buildings!