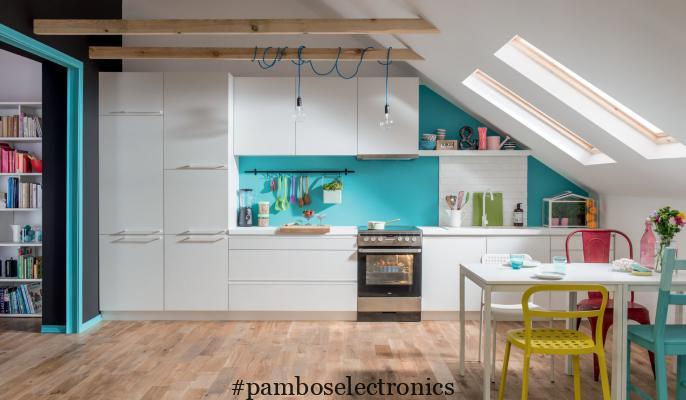 Cooker may refer to several types of cooking appliances and devices used for cooking foods.
General characteristics Color: White Width: 60 cm Height: 85 cm Depth: 60 cm Includes: 1 wire shelf, 1 standard enameled cooking tray
-13%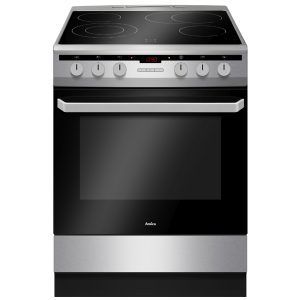 Total power: 9.9 kW Top heater: 900 Watt Bottom heater: 1100 Watt Ring heater: 2000 watts Supergrill: 2000 Watts Dimensions Unit Dimensions (H x W x D): 85 x 60 x 60 cm
Amica 618CE3.434EH Free Standing Electric Cooker, 4 ceramic hobs – 6 zones, Capacity: 65ltrs, 10 oven programs, Energy Class: A Free Standing
Quick heating of the oven reaches 150C in just 4 minutes. -20% consumption than A Energy efficiency. Easy dismantling of the door for easy cleaning. 3 glass door. Electric grill in over. Oven capacity: 65L. Electronic timer. 7x rotating control buttons with electronic timer.
ENAMEL OF EASY CLEANING AUTOMATIC GAS CLOSURE INCORPORATED START BUTTON ON THE CONTROL ***MODEL: 6020GG4.33ZPQ(W)
Height 85 cm Width 60 cm Depth 60 cm Disc Type: gas Colour WHITE
Beko Ceramic Kitchen FSM 67320DWS Ceramic kitchen Beko FSM 67320DWS with submerged POP switches, 8 cooking modes, energy class A and a capacity of 72 liters. 8 cooking modes Underwater POP switches
-12%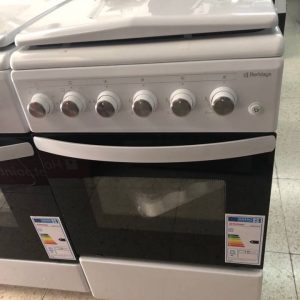 BERKLAYS GAS COOKER 4 GAS ZONES CAPACITY 46L ENERGY A WITH GRILL DIMENSIONS WIDTH 50CM DEPTH 60CM HEIGHT 85CM
BRAND: BERKLAYS TYPE: GAS COOKER DIMENSIONS WIDTH 60 X DEPTH 60 X HEIGHT 85CM Auto Ignition On the Knob Inner Oven Light
-6%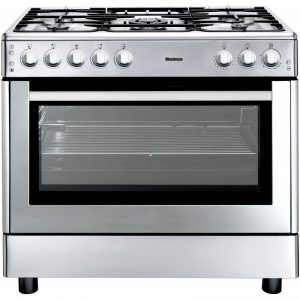 Model: GGG9152E Gas Cooker Oven Function: 1 Gas Burners: 5 Color: Inox
-11%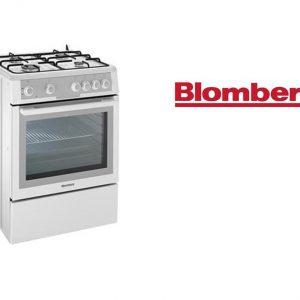 5 YEARS GUARANTEE ON PARTS AND LABOUR
Technical Specifications for HOTPOINT Gas/Electric Freestanding Kitchen H6TMH2AF (W) IT White Type Gas/Electric Size 60 cm Hob Type Gas 4 burners Oven Type Electric Energy Class A Energy Consumption Overview The gas cooker with oven multifunction Hotpoint H6TMH2AF (W) IT ensures a perfect cooking with maximum flame control, thanks to the 6 levels of power of each burner. The kitchen with electric oven multifunction H6TMH2AF (W) IT has dimensions of 60 cm wide and 60 cm deep. It ensures maximum energy savings in energy class A and provides a schedule of up to 11 cooking programs, to meet the wishes and needs in the kitchen Discover the unique characteristics of the gas cooker with oven multifunction Hotpoint H6TMH2AF (W) IT and other cuisines Hotpoint range. Features GRATIN: Gratin function activates the heating element upper and puts on at the same fan that prevents burning on the surface alimenti.Ideale for kebabs, sausages and pork ribs MULTICOOKINGS: The function Multicookings active all the heating elements together with the fan making possible the simultaneous cooking on 2 racks, even of different dishes. Ideal for foods requiring a gratin or baking long enough Oven features: Oven type : Multifunction oven Volume (l) : 59 Energy efficiency : A Cleaning system : Steam Cleaning Firing program : Timer end of cooking Accessories: 2 Grilles 1 dripping Normal Safety: Safety valve gas plan : It Features flat: Top type : Gas Grills Type : Flat square Ignition Type : Automatic Technical Specifications Size: Height (cm) : 85 Width (cm) : 60 Depth (cm) : 60 Dimensions (H x W x D) 850 x 600 x 600 mm
Showing 1–12 of 13 results