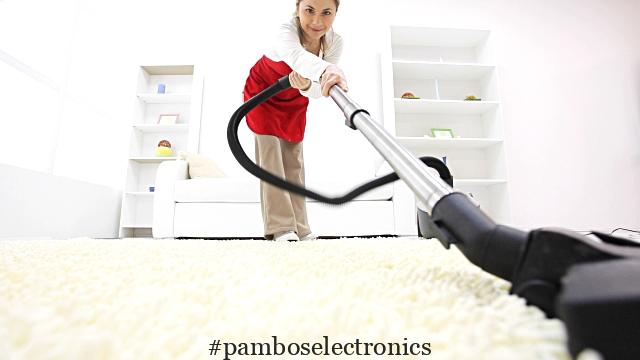 Amica bagio eco vm3043 – bagless silver black Technical data Energy rating B Max power 900 W System container volume 1,5
Type Bagless vacuum cleaner Vacuum Drying Power Supply Network Regulator in the holder Yes Automatic cable rewind Yes Power regulation Yes Floor
Technical data Energy rating B Max power 900 W System container volume 1,5 Operating range 8 Length of power lead 5 Length
-10%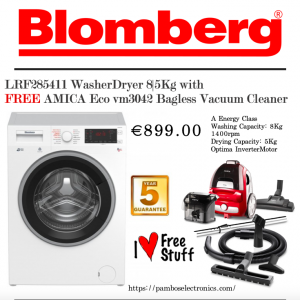 Blomberg LRF285411 Washer Dryer,  energy class A with a maximum washing capacity of  8 Kg, drying  5 Kg and 1400 spin speed. It features OptimaInverter Motor, for quiet and energy efficient washing, Wash&Dry program up to 5Kg in just 55 minutes and 5 years quarantee.
2 in1 handheld and stick vacuum cleaner Energy class: "A" Max Power: 800W Capacity: 0,8lt Cord length: 5m Includes: Crevice tool, Metallic
2 in 1, hand-held and hand-held vacuum cleaner Energy Class "A" Motor Max 800W Bag capacity 0.8lt Cable length 5 meters Includes:
Power: 54W Rechargeable with wireless use Dry use only Permanent washable filter Transparent dust container On / Off button with indicator light
EZ Clean Cyclone The unique EZClean Filter separates large dust particles using centrifugal forces. The bag collects only fine dust, which saves the replacement cost while the EZClean Filter is on the handle, check the concentration dust.
-16%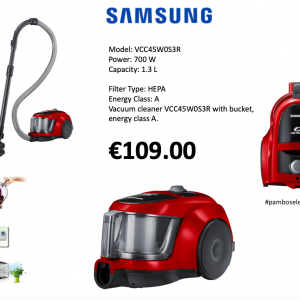 Model: VCC45W0S3R Power: 700 W Capacity: 1.3 L Filter Type: HEPA
Powder capacity 2.5 l Efficiency Max. energy consumption 750 W Suction power 200 W
Type: Cyclone Force with Anti-tangle Turbine Bag capacity: 1.3 liters Maximum power consumption: 550 Watt Suction power: 170 Watt
-21%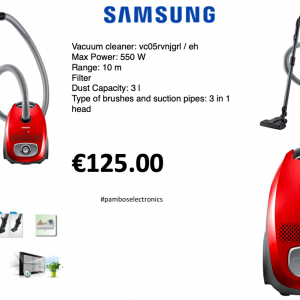 Vacuum cleaner Max Power: 550 W range: 10 m Filter Dust Capacity: 3 l
Showing 1–12 of 15 results