Adler ad 7305 fan 40 cm – stand
€35.00
In stock
Compare
Description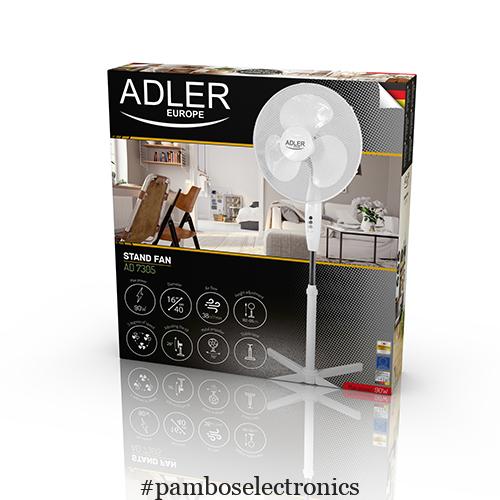 An efficient fan rated at 90 W. It cools the air in a given room and provides it with a larger amount of fresh air. It has a very stable base which allows to place it even at an uneven surface without fearing for it falling. Thanks to a rotatable head one device can cool a bigger area. The angle adjustment makes it possible to change the airflow from horizontal to vertical. The AD 7305 stand fan has a huge diameter of 40cm which enlarges the cooling surface and three speed settings allow to decide how strong the airflow shall be. Using the possibility of the up-down stand adjustment there it is possible to choose such a height that would be addressing our needs best. The fan is perfect when cooling is necessary in a place where there is no furniture allowing to place small devices on it.
Diameter 40cm / 16"
• Horizontal oscillation of 76° (38° left & 38° right)
• Adjustable height: 102-125cm
• Air flow 38m3/min.
• Elegant design
• 3 speed settings
• Adjustable angle 26° (13° up and 13° down)
• Stable base
• Max Power: 90W
• Power: 45W
• Power supply 220-240V ~ 50/60H
• Noise level 53 Db
FAQ:
***KINDLY NOTE: THE PRODUCT IS UNASSEMBLED IN THE BOX!