Toshiba washing machine 7kg silver bl80s2cy sk
FREE 🚚 in Limassol City!
FREE 🛠️ Installation (i.e. FITTING on the Existing Provisions!)
What does not include:
Hydraulic setup
Water supply & sewerage extensions
Cutting-shaping furniture
In stock
Compare
Description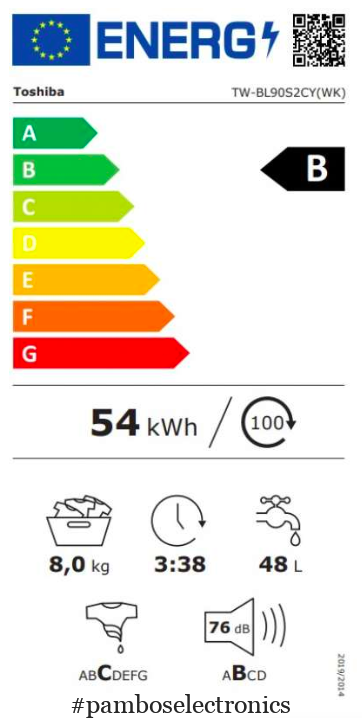 Model: TW-BL80S2CY(SK)
Washing Capacity: 7 Kg
Spin Speed: 1200rpm
GreatWaves Technology
Real Inventer Motor
QuickWash 15′
Toshiba TW-BL80S2 washing machine, 7Kg washing capacity, 1200 rpm spin speed with 5 years guarantee. Features the innovate GreatWaves Technology, Real Inverter Motor and QuickWash 15′.
HighLights
GreatWaves Technology: Toshiba Washing Machine is one of a kind and works by the phenomenon of the GreatWaves technology inspired by the famous Japanese painting 'The Great Wave of Kanagawa' that uses both Flush Wave and Cold Wash that saves time, money and protects your laundry.
Real Inventer Motor: The durable and efficient inverter comes with a 10 year warranty + 10% less noise.
QuickWash 15′: Wash small load laundry without any hassle with Toshiba's Quick wash technology in just 15 minutes.
Washing programs: Cotton | Cotton Eco | DownJacket | SportWear | Quick 15′ | Delicate | Wool | Synthetic | BabyCare | BedLinen | Mix | ColorAlive | Spin | Rinse&Spin | DrumClean | Memory
Washing options: Spin & Drying Level | ChildLock
Display: Delay | Time remaining indicator | Indication locked door
Technical Specifications
Capacity: 7 kg
Speed ​​Regulator (per minute): No spin | 600 | 800 | 1200
Temperatures: Cold | 20 | 40 | 60 | 90 ℃
Display: Led
Load Detector
Foam sensor
Dimensions & Weight
Dimensions(WxDxH): 595x530x850cm
Weight: 61Kg