TOSHIBA – 7KG – INVERTER – WASHING MACHINE 1200RPM A+++ MODEL BJ80S2CY
€449.00
FREE 🚚 in Limassol City!
The product can be delivered to the inside ground floor for houses or inside ground floor lobby for apartment buildings! 
FREE 🛠️ Installation (i.e. FITTING on the Existing Provisions!)
Toshiba TW-BJ80S2 washing machine, 7Kg washing capacity, 1200 rpm spin speed,  A+++ -30% energy class with 5 years guarantee. Features the innovate GreatWaves Technology, Real Inverter Motor and QuickWash 15′.
In stock
Compare
Description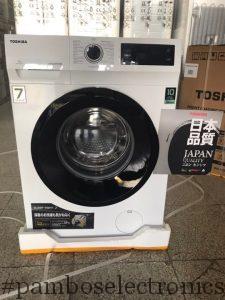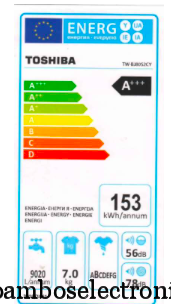 TW-BJ80S2CY
Washing Capacity: 7 Kg 
Energy Efficiency Class: A+++ -30%
Spin Speed: 1200rpm
GreatWaves Technology
Real Inventer Motor
QuickWash 15′
HighLights
GreatWaves Technology: Toshiba Washing Machine is one of a kind and works by the phenomenon of the GreatWaves technology inspired by the famous Japanese painting 'The Great Wave of Kanagawa' that uses both Flush Wave and Cold Wash that saves time, money and protects your laundry.
Real Inventer Motor: The durable and efficient inverter comes with a 10 year warranty + 10% less noise.
QuickWash 15′: Wash small load laundry without any hassle with Toshiba's Quick wash technology in just 15 minutes.
Washing programs: Cotton | Cotton Eco | DownJacket | SportWear | Quick 15′ |  Delicate | Wool | Synthetic | BabyCare | BedLinen | Mix | ColorAlive | Spin | Rinse&Spin | DrumClean | Memory
Washing options: Spin & Drying Level | ChildLock
Display: Delay | Time remaining indicator | Indication locked door
Technical Specifications
Capacity: 7 kg
Speed ​​Regulator (per minute): No spin | 600 | 800 | 1200
Temperatures: Cold | 20 | 40 | 60 | 90 ℃
Display: Led
Load Detector
Foam sensor
Consumption
Energy rating: A+++ -30%
Wash water consumption (liters) per year: 9020 L
Energy consumption cold (kWh) / year: 153
Noise level washing / drying (dB): 56/78
Spinning Performance: B
Dimensions & Weight
Dimensions(WxDxH): 595x530x850cm
Weight: 61Kg
GUARANTEE: 5 YEARS ON PARTS / 10 YEARS GUARANTEE ON THE DIGITAL INVERTER
COLOUR: WHITE
The Great Wave technology combines rotation and various water power. It gives the same washing efficiency as hand washing, but saves water and washes faster. Quick washing in just 15 minutes. Color alive program (uses cold water for washing) is for longer lasting bright colors as it offers 39% less color bleaching and 45% reduction of clothing deformation compared to using hot water. Real Inverter runs 10% quieter, more efficient and durable.