Midea washerdryer 10/7 kg – mfk01d100b/s promo
FREE 🚚 in Limassol City!
FREE 🛠️ Installation (i.e. FITTING on the Existing Provisions!)
What does not include:
Hydraulic setup
Electrical setup
Water supply & sewerage extensions
Cutting-shaping furniture
In stock
Compare
Description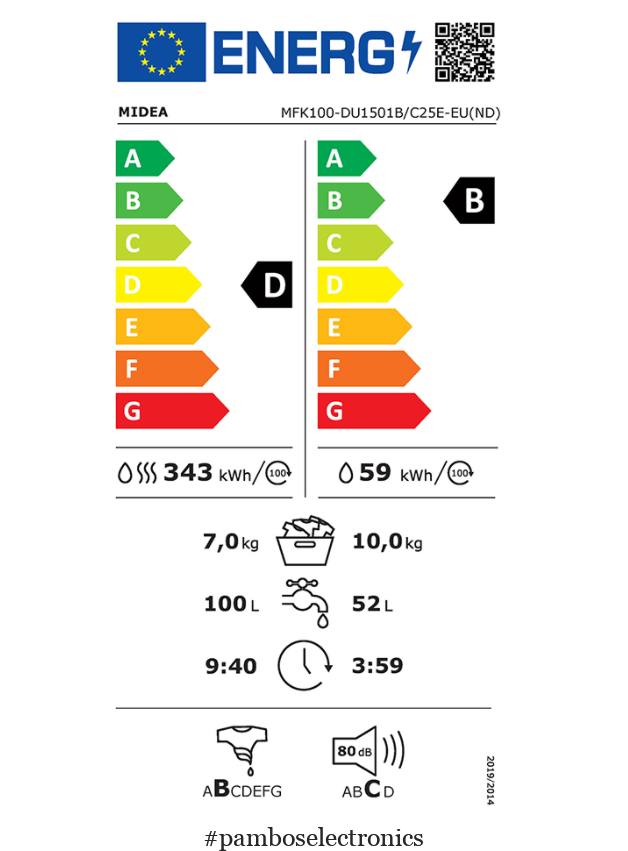 Model: MFK01D100B/S
Washing Capacity: 10 Kg
Drying Capacity: 7 Kg
BLDC Inverter Motor
SpaCare
Midea MFK01D100B/S WasherDryer, with a maximum washing capacity of 10 kg, drying capacity 7 kg and 1500 spin speed in Dark Silver Color . Features 16 programs including SpaCare, automatic weight regulation, Q uick Wash&Dry program and Inverter BLDC Motor with 10 years quarantee.
HighLights
SpaCare: The idea is to fill the water before the main wash program and heat up to 70 degrees to generate steam. This loop lasts 15-30 minutes. And the main advantage of SpaCare is to sterilize 99.99% * and remove bad smells from the laundry. Cleaning performance is significantly improved with the effect of SpaCare, especially when washing with cold water (≤20 ° C).
BLDC Inverter: Compared to the universal motor, the BLDC Inverter motor has an energy saving of over 70%.
Water Cube Drum: The creative "Water Cube" drum effectively helps to "massage" the clothes and completely remove stains and clean the corners of the fabrics.
Washing programs: Cotton | Cotton Eco | MyCycle | Synthetic | Mix | QuickWash 15′ | Delicate | Wool | DryOnly | BabyCare | Wash&Dry 60′ | Spin | Rinse&Spin | DrumClean
Wash Options: Delay | ExtraRinse | Prewash | SpaCare | SpeedWash | SoilLevel | DryLevel
Additional Features: Spin & Drying Level | ChildLock | Reload | Dry | Mute the buzzer