Midea Ultimate Comfort Inverter Air Condition 9.000Btu A++/A+++
€0.00
FREE 🚚 in Limassol City!
MT-09N8D6
WiFi Smart Inverter 
Capacity (Btu/h): 9.000 BTU
Cooling (Btu/h): 3.500 – 11.000
Heating (Btu/h): 2.800 – 11.500
A++ Cooling Energy Class 
Inverter Quattro Technology
Out of stock
Compare
Description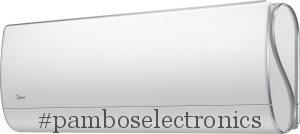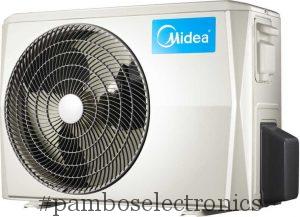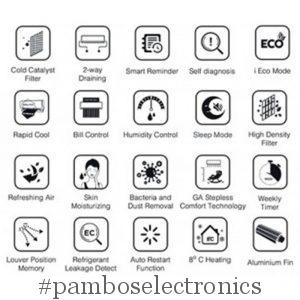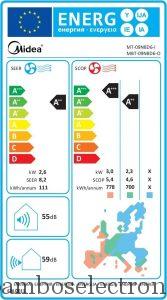 Midea MT-09N8D6 air conditioner from the Ultimate Comfort Series offers you great air quality and humidity control thanks to Smart Sensor Technology and SilkyCool function, while the Wi-Fi option allows you to control your air conditioner remotely via tablet or smartphone.
---
HighLights
Humidity control : Midea's smart sensor technology detects your room temperature and humidity levels. The application makes it possible to adjust the desired relative humidity level from 30% to 90%.
Silky Cool : The Coanda Deflector diffuser directs the air flow upward to the roof to be distributed throughout the room, avoiding user exposure to the air stream. What a pioneering windscreen Wind Sprayer with hundreds of holes, evenly diffuses the supplied air as a gentle caress, giving a silky feeling of coolness that calms you.
Super Ionizer : Eliminates odors, dust, smoke and pollen particles, releasing anions and cations, offering fresh air and a healthy environment.
WiFi  Application

: 

Control your air conditioner and schedules easily through the Smart Devices app. You can turn on your air conditioner before arriving at home so that you can get the perfect temperature later on.
Air Quality

: 

 Ionisation, High Density and Bio Filter filters completely eliminate harmful substances, providing fresh and clean air.
Intuitive  User Interface:  With a simple touch of the screen, you can easily turn your air conditioner on or off and set the operating temperature.
Intelligent Diagnosis:  Midea's Smart  Diagnostic Mode is an automatic control system that monitors and detects 97 different error codes at an early stage and alerts you through the SmartPhone / Tablet application.
Follow Me

:

 Follow Me, makes you feel comfortable every hour after automatically adjusting the air conditioner's ambient temperature according to the smart sensor on the wireless controller. 
Super Cool:  With a simple touch, you can turn on Super Cool mode and set the room temperature to 17 ° C
GA StepLess Comfort Technology

: 

The air conditioner operating system is parameterized based on actual room conditions and data, achieving uncomplicated adaptation across the compressor speed range.
Gear Change Mode

: 

With Gear Change, Midea air conditioners offer the choice of three levels of savings of 50%, 75% and 100%.
iECO Mode: Midea air conditioners have iECO energy saving technology, which allows for comfort for an 8-hour period with increased levels of savings. IECO is available only when cooling is in operation.
Smart SleepMode: Choose one of the sleeping functions that is designed for seniors, youngsters and kids, or just create your own.
Quick Cooling & Heating: Midea Inverter Quattro air conditioners use fast start technology with powerful cold or hot air to achieve instant comfort.
Triple Filter

: 

The air conditioner features a triple filter system to protect against harmful particles. Your application reminds you of their cleaning time.
Functions
Cooling-Heating : Super Cool | Turbo Mode | Wide Angle Air Distribution | Quick Cooling / Heating | Minimum Heat 8 °C | Auto Restart | Low Ambient Heating (-25 °)
Energy Consumption : Gear Change | iECO | Standby <1W | Energy Control
Comfort: Sweet Dreams | Silky Cool | Low Noise | Humidity control | Favorite Cool | Follow Me | GA Stepless Technology | Do Not Disturb | Anti-cold air | Smart Dehumidification | Smart Defrost
Clean Air: Air Magic | Super Ionizer | High Density Filter | Triple Filter | Bio filter | Self-cleaning
Smart Technologies : Wi-Fi Control | Weekly Timetables | Smart Sleep Mode | Intelligent Diagnosis | i-Remote / Hotel Menu Location of blinds
Strength-Reliability : Diamond Cabinet Housing | Fin Protection | Golden Fin | Emergency Use | Leak Detection
Specifications
Seasonal Energy Efficiency (SEER) Cooling: 8.2
Seasonal efficiency coefficient (SCOP) Heating (warm): 4.6
Indoor Unit Noise Level (Hi / Mi / Lo / Si): 39,5/30/21/19,5 dB (A)
Indoor Unit Sound (Hi): 54 dB (A)
Outside Unit Noise Level: 55.5 dB (A)
Outside Audible Output: 57 dB (A)
Dimensions & Weight
Indoor Unit (HxWxD): 315x886x188 mm
Outdoor Unit (HxWxD): 554x800x330 mm
Indoor Unit: 10.3 kg
Outdoor Unit: 29.1 kg
***AVAILABLE UPON REQUEST – DELIVERY WITHIN 2 WORKING DAYS