Midea mission ii inverter air condition 24000btu wifi mb-24n8d0-1 A++/A+++ r32
€1,099.00
In stock
Compare
Description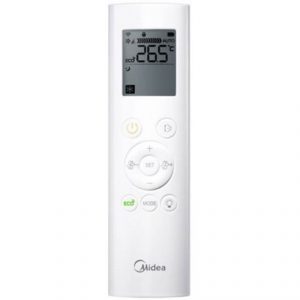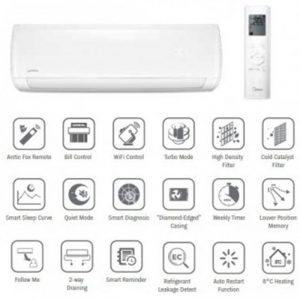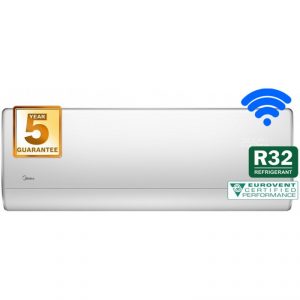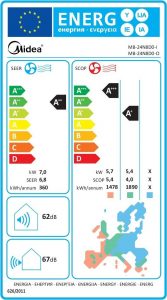 Comfort Technology GA StepLess
The air conditioner's operating system is parameterized based on actual room conditions and data, achieving uncomplicated adaptation across the compressor speed range.
Gear Change Mode
With Gear Change, Midea air conditioners offer the choice of three levels of savings of 50%, 75% and 100%.
iECO Mode
Midea air conditioners have iECO energy-saving technology, which allows comfort to last for 8 hours, with increased levels of savings. IECO is only available when cooling is in operation.
Air Quality
Ionisation, High Density and Bio Filter filters completely eliminate harmful substances, providing fresh and clean air.
Remote Control Application
Check your air conditioner and set schedules easily through the Smart Devices app. You can turn on your air conditioner before arriving at home so that you have the perfect temperature at the time you enter.
Smart Sleep Mode
Choose one of the sleeping functions that is designed for seniors, youngsters and kids or just create yours.
Flash Cooling & Heating
The Midea Inverter Quattro air conditioners use fast start technology with powerful cold or hot air to achieve instant comfort.
Intuitive User Interface
With a simple touch on the screen, you can easily turn your air conditioner on or off and set the operating temperature.
Smart Diagnosis
Intelligent Diagnostic Mode of Midea Air Conditioners is an automatic control system that monitors and detects 97 different error codes at an early stage and alerts you through the SmartPhone / Tablet application.
PRODUCT DETAILS
Inverter Device Type
Covering spaces (m²) 55-65
Rated Refrigeration Performance (Btu / h) 24,000
Range of Performance – Cooling (Btu / h) 7.200 ~ 28.800
SEER 6,8
Energy Class – Cooling A ++
Annual Consumption (kWh / a) 360
Nominal Heating Efficiency (Btu / h) 26,000
Range of Performance – Heating (Btu / h) 5.300 ~ 32.200
PURPOSE – Hot Zone 5.4
Energy Class – Hot Zone A +++
Annual Consumption – Hot Zone (kWh / a) 1478
Eurovent Certification
Wifi
Dehydration
Indoor Unit Sound Pressure (dB (A)) 21-26-36,8-47,5
***PLEASE NOTE: THE PRICE OF THE INSTALLATION IS NOT INCLUDED!