Midea blanc series 18000btu wifi
€719.00
In stock
Compare
Description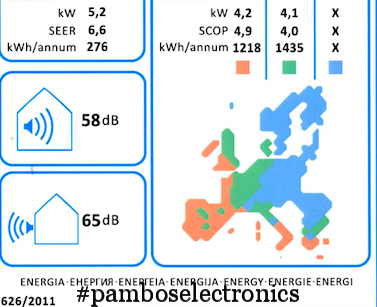 Capacity (Btu/h): 18.000 BTU
Cooling (Btu/h): 6.524 – 20.977
Heating (Btu/h): 3.552 – 23.600
A++ Cooling Energy Class
The new Midea air conditioner from Blanc II Series will surprise you with the innovative features, design and performance . With Quattro Inverter technology and the new enviromently friendly gas R32, it offers you maximum energy savings and guaranteed performance, certified by Eurovent .
HighLights
WiFi Application: Control your air conditioner and schedules easily through the Smart Devices app. You can turn on your air conditioner before arriving at home so that you can get the perfect temperature later on.
Super Ionizer : Eliminates odors, dust, smoke and pollen particles, offering fresh air and a healthy environment.
Follow Me: Follow Me, makes you feel comfortable every hour after automatically adjusting the air conditioner's ambient temperature according to the smart sensor on the wireless controller.
Super Cool: With a simple touch, you can turn on Super Cool mode and set the room temperature to 17 ° C
GA StepLess Comfort Technology: The air conditioner operating system is parameterized based on actual room conditions and data, achieving uncomplicated adaptation across the compressor speed range.
Gear Change Mode: With Gear Change, Midea air conditioners offer the choice of three levels of savings of 50%, 75% and 100%.
iECO Mode: Midea air conditioners have iECO energy saving technology, which allows for comfort for an 8-hour period with increased levels of savings. IECO is available only when cooling is in operation.
Quick Cooling & Heating: Midea Inverter Quattro air conditioners use fast start technology with powerful cold or hot air to achieve instant comfort.
Triple Filter: The air conditioner features a triple filter system to protect against harmful particles. Your application reminds you of their cleaning time.
Diamond Cabinet Housing: The spiral shaped outlet grille and redesigned and optimized impeller, improve the air flow and reduce noise. The "T" configuration cover optimizes the enclosure stability.
Golden Fin Protection: Golden Fin fin is a Coating that prevents the growth and spread of bacteria from the surfaces of the external element. It also improves heat dissipation characteristics and reduces defrosting time.
Functions
Cooling-Heating : Super Cool | Quick Cooling / Heating | Vertical Swing of Blinds | Minimum Heat 8 °C | Auto Restart
Energy Consumption : Gear Change | iECO | Standby <1W
Comfort : Favorite Cool | Follow Me | GA Stepless Technology | Do Not Disturb | Anti-cold air | Smart Dehumidification | Smart Defrost
Clean Air : Super Ionizer | High Density Filter | Triple Filter | Bio filter | Self-cleaning
Strength-Reliability : Diamond Cabinet Housing | Fin Protection | Golden Fin | Emergency Use | Leak Detection
Specifications
Seasonal Energy Efficiency (SEER) Cooling: 6.6
Seasonal efficiency coefficient (SCOP) Heating (warm): 5.1
Indoor Unit Noise Level (Hi / Mi / Lo / Si): 43/36/30/22 dB (A)
Indoor Unit Sound (Hi): 58 dB (A)
Outside Unit Noise Level: 56.5 dB (A)
Outside Audible Output: 65 dB (A)
Dimensions & Weight
Indoor Unit (HxWxD): 302x958x223 mm
Outdoor Unit (HxWxD): 554x800x333 mm
Indoor Unit: 10.3 kg
Outdoor Unit: 34 kg
FAQ:
***KINDLY NOTE: THE PRICE OF THE INSTALLATION IS NOT INCLUDED!