Blomberg oven oen9331xp 71ltrs PYROLYSIS
***5 YEARS GUARANTEE***
FREE 🚚 in Limassol City!
FREE 🛠️ Installation (i.e. FITTING on the Existing Provisions!)
What does not include:
Cutting-shaping furniture and granite
Electrical setup
In stock
Compare
Description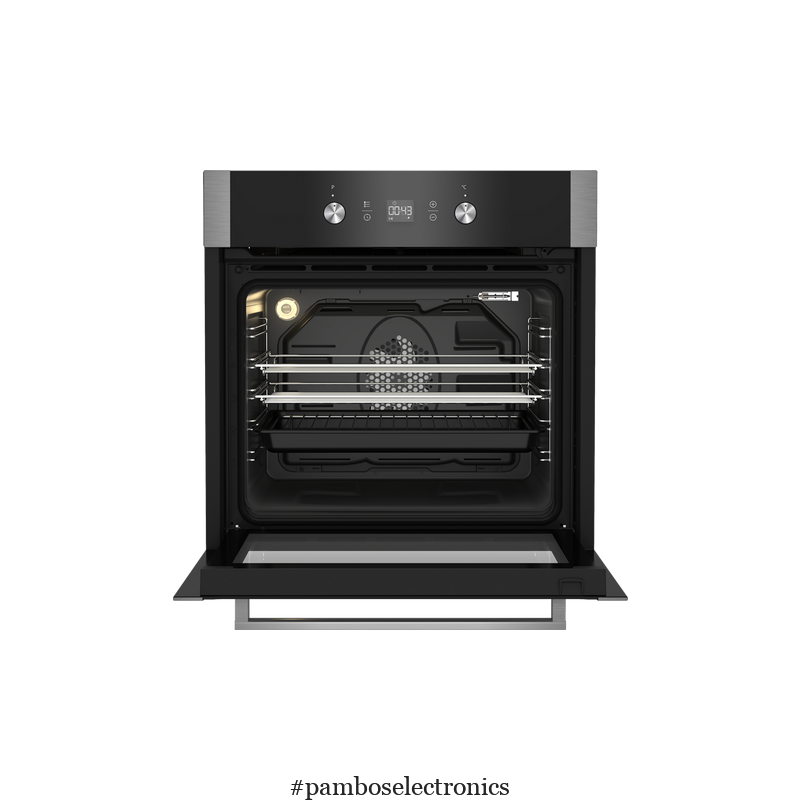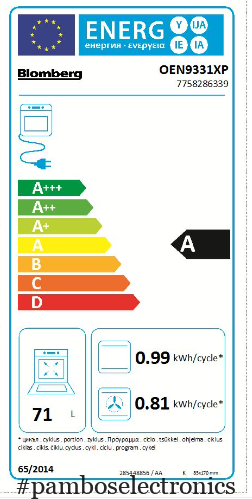 The Blomberg OEN9331XP Single Oven is a multi-fuction appliance with a spacious 71 litre (net) capacity. With 2 shelves and a full size grill/roasting pan with wire rack you can cook on multiple levels at the same time.
Want to take your cooking routine to the next level? Then look no further than the single OEN9331XP from Blomberg. Combining a spacious capacity, a multitude of functions, and accessories in the box, you can start roasting, baking and more straightaway.
This built-in electric fan oven is exclusive to Euronics and Agent stores, so you won't find it anywhere else.
Spacious Fan Oven with Nine Functions
This Blomberg fan oven offers 71 net litres of space, across five shelf slots, so you can cook a great range of dishes for your family at the same time. As a multi-function model, you can tailor your oven to cook all sorts of foods to perfection; choose from the following nine programmes:
Bottom Heating
Conventional Cooking
Defrost Function for Oven
Fan Assisted Cooking
Warm Keeping
Eco Pyro
Pyrolytic Self Cleaning
Electric Grill
Low Grill with Fan
With the fixed integral grill, you can cook healthier dishes like chicken fillets or vegetable bakes, and give them a browned, crisp finish. Thanks to the two included wire shelves, as well as the full size enamel cooking tray with an internal grill rack, you can get cooking straightway.
Use the retractable dial controls, and fully programmable touch screen LED display, to select your desired programme with ease. You can even set a timer, so that the oven lets you know when your food has finished cooking, at the time chosen by you. The interior bulb light will also illuminate your oven's interior, so you can keep an eye on a meal's progress.
Easy-Clean Electric Oven
The OEN9331XP has been designed to make your life easier, with its two pyrolytic self-cleaning functions. Combining advanced technology with energy efficiency, pyrolytic cleaning heats your oven to a high 480°C, reducing grease and grime to ash. Then, just wipe away from the oven's enamel linings with a cloth, and it will look good as new.
Blomberg electric oven will retain the heat and keep the outside cool to touch. If you want to give the door a deeper soak away from the rest of the appliance, it's easily removable too.
As a built-in electric model with a stainless steel finish, the OEN9331XP will make a stylish addition to your kitchen. It's also rated 'A' for energy, making it kinder on your pocket and the environment