Amica – glass gas hobs – 5 burners – 70 cm surface PGCZ7411
€319.00
FREE 🚚 in Limassol City!
FREE 🛠️ Installation (i.e. FITTING on the Existing Provisions!)
In stock
Compare
Description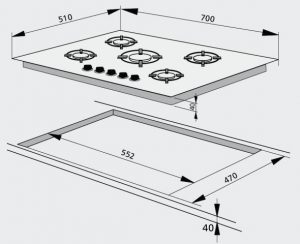 Integrated control panel
Front panel control
70 cm
Single cast iron grates
Glass without grinding
Burner anti-flow protection
When the flame goes out due to a burner or draft, the protection will automatically cut off the gas supply. This eliminates the danger of volatilisation.
Electric gas knob in the knob
Amica PGCZ7411 built-in Gas Hob on Black Tempered Glass Surface 70cm
5 gas burners
Front left: Burner normal performance 1,9 kW
Back left: Burner normal performance 1.8 kW
Center: WOK 3.5 kW Burner
Rear right: High-speed Burner 1,8 kW
Front right: Economic burner operating 1.0 kW
Thermoelectric safety gas shut-off burner
Electrical ignition flame by turning the knob
Supports for cast iron cookware
Dimensions: Height 4cm Depth 47cm Width 55.2 cm
Surface Dimensions: Width 70cm Depth 51cm